Research in the College of Education
CSUF Proposal Processing Chart

COE Grant Application Procedure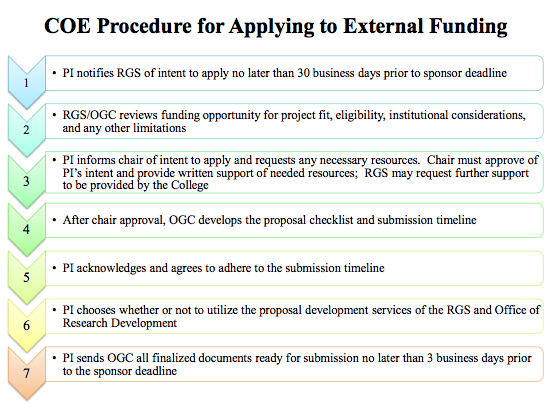 Intent to Seek Funding
When a PI is interested in seeking funding for a given project, they will develop a 1-2 page concept paper. The PI is encouraged to discuss their concept with the RGS and, if needed, request assistance in writing the concept paper.
The PI will send the completed concept paper to the RGS who will submit a request on the PI's behalf to Foundation Relations (FR).  With information provided in the concept paper, FR will research potential private funding opportunities.  The RGS will research potential federal/public funding opportunities.
Notification of potential funding opportunities will be given to the PI within ten (10) business days. 
  What will I need in order to develop a proposal?
To develop your concept paper (this helps the RGS to identify funding sources, budget amount, communicate with Program Officer if necessary, and assist faculty with obtaining collaborators.)
To meet with Research Grants Specialist (if you want assistance, otherwise schedule an appointment to meet with the Grants Coordinator in the Office of Grants and Contracts)
To identify your collaborators (this helps with determining the size of the budget and scope of services for the research project up front).
Important things you will need to know prior to meeting with your RGS, looking for funding sources, or developing a proposal:
What is your scope of work (What is the program? What will you be doing?)
What are your goals, objectives, measurable outcomes?
Who is your target audience? (age, socioeconomic status, geographical area)
What is the duration of the program?
How much will it cost to administer the program? 
Funding Priorities
Professional Development Training: Preparing Teachers on How to Teach Common Core
Filling the Teacher Shortage
Minority Males

Increasing recruitment, retention, and graduation (developing a pipeline of minority males into the teaching profession)
List of Funded Grants
Getting Started: Grant writing Resources
CSUF Resources
CosPivot: CSUF pays a subscription for faculty to access funding sources
Research Development (ORD): first point of contact in starting the grant writing process
Grants and Contracts (OGC): responsible for submitting all proposals and contracts when University resources are involved
Sponsored Programs (OSP): assists faculty with post-award management
The Faculty Development Center (FDC): training and development resources
Director of Development (DoD): identifies private and foundation funding
University Advancement (UA): manages private and foundation relationships
Research Grants Specialist (RGS): assists faculty with developing research project concept, identifying funding sources, preparing proposal, budget, and supporting documentation
Government Relations: assists with obtaining letters of support from elected officials
Background Information/Statistics
Online Resources
COE Faculty Network: Faculty Research Interests
Secondary Education
Professional Development: Increasing the effectiveness of teachers, administrators and parents of English Learners in dual immersion/biliteracy programs.
Professional Development: teaching new faculty specialized teaching techniques designed to improve comprehension, retention, and understanding of key science problem solving in underserved, underrepresented student populations
Special Education
Revisions to course and fieldwork to align with new state standards for the preparation of teachers planning to work with K-12 students with high-incidence disabilities, such as learning disorders, emotional disturbances and mental retardation
High Impact Practices: International Research collaboration (inclusive education by teachers working with students with disabilities)
Training medical caregivers how to engage with patients diagnosed with Autistic Spectrum Disorder
The Partnership for Academic Student Success (PASS) is a project designed to improve student persistence and narrow the achievement gap for low socioeconomic status (SES) students. By helping educators understand family priorities, needs, and assets; effective strategies can be developed to support academic curricular planning for low SES students.
Elementary and Bilingual Education
High School Education Program (HEP) – A campus and community-based collaborative designed to provide seasonal farmworkers with comprehensive, culturally relevant, campus-based support services and intensive academic instruction that lead to pathways to post-secondary education, vocational training or a career in the military.
Network Inclusion Communities (NIC) – Increase the number of underrepresented males admitted as teacher candidates into the CSUF credential programs. Provide a credentialing pathway that engages, recruits, and retains underrepresented males into and through the CSUF credential programs. Establish a small learning community to support underrepresented male students' successful introduction to education as a career and completion of the credential program.
Ed Leadership
Assist community colleges in more effectively serving minority males students by defining best practices and developing a national database for the Minority Male Initiative
Make a long-lasting impact in the City of Maywood by expanding the college education program to reach more students, instilling a college going culture in the community by increasing education connections between parents and schools, and ultimately creating an academic infrastructure that encourages and supports college readiness and academic success.
To improve the nation's capacity for teaching and learning of Asian languages which includes Vietnamese, Korean, Chinese, and Japanese. The funds will be used to develop resources and professional development to enhance the teaching, learning, and research for these less commonly taught languages in the United States.
Reading
Closing the achievement gap in underrepresented students at the community college level by providing intervention (an engaging and supportive environment for various learning styles) and evaluation services (detailing reading and literacy levels,
strengths, needs and recommendations to students and professors for instructional activities designed to increase reading levels) that lead to student success in core classes.
Instructional Design and Technology
Effective online education strategies and the implementation of video conferencing to increase a sense of community among learners.