COE Education Week 2022
Cal State Fullerton's College of Education (COE) presents Ed Week 2022. Ed Week is an opportunity for the campus community to learn about the impact of earning a credential or degree in education while providing a spotlight for students and alumni to shine. We encourage everyone to participate and visit all of the incredible events we have in store!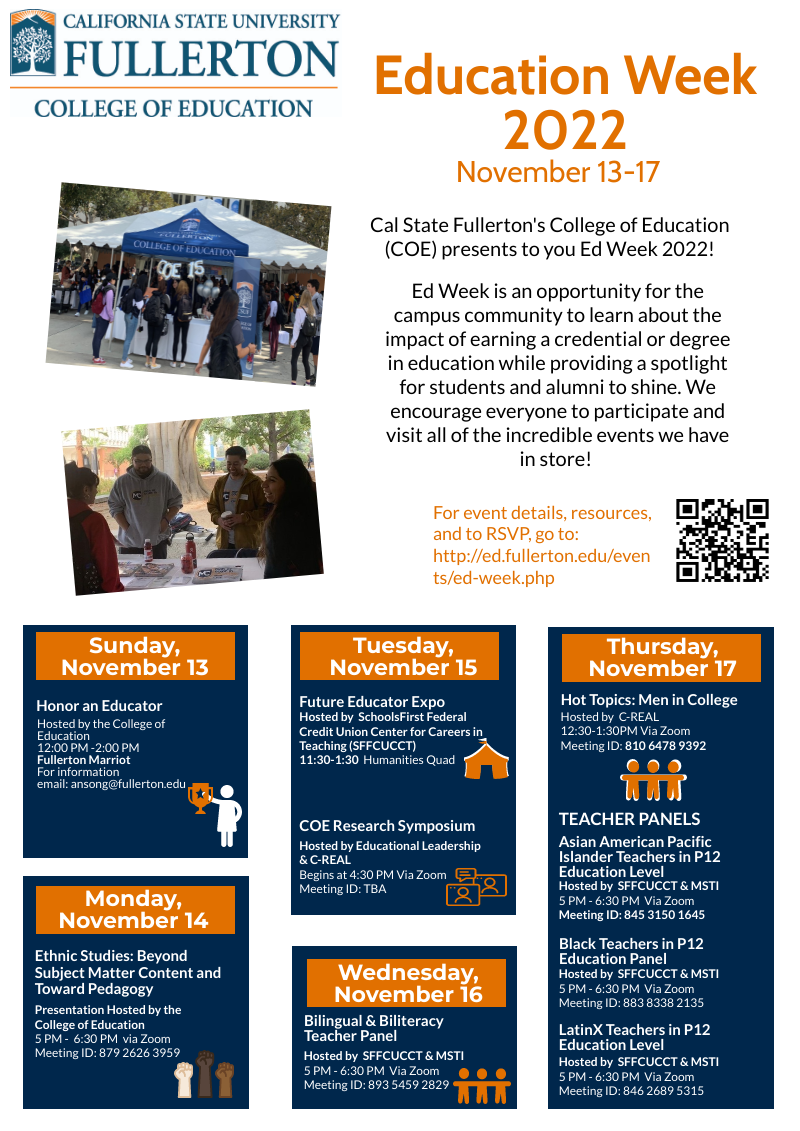 Outline of Events
---
Sunday, November 13
Honor an Educator
Hosted by the College of Education
12:00 - 2:00 PM
Fullerton Marriot, 2701 Nutwood Ave, Fullerton 92831
*Parking is complimentary
The Honor an Educator program was created in 2006 as a special event paying tribute to community educators and partners who have made a difference in the lives of their students and communities.
You have the opportunity to recognize and honor an extraordinary teacher in your life! Honoring an educator is a meaningful way to applaud the work of educators who impact others every day.
If you are interested in attending, purchasing seats, honoring your own educator, or becoming a sponsor, register today or call Annie Song at 657-278-2897 or   ansong@fullerton.edu.
Event proceeds support scholarships for future teachers in Cal State Fullerton's College of Education.
---
Monday, November 14
Ethnic Studies: Beyond Subject Matter Content and Toward Pedagogy
Hosted by the College of Education 
5:00 -  6:30 PM  
Zoom Link: https://fullerton.zoom.us/s/87926263959
Meeting ID: 879 2626 3959

In this presentation. Dr. Buenavista will provide a primer on Ethnic Studies, discuss misconceptions of the field, and guide educators to curate a classroom experience that centers the humanization of BIPOC students.
Tracy Lachica Buenavista (she/her/isuna) is Professor of Asian American Studies and a core faculty member of the Doctoral Program in Educational Leadership at California State University, Northridge (CSUN). She is the co-principal investigator and co-founder of the CSUN DREAM Center, Asian American Studies Pathways Project, Ethnic Studies Education Pathways Project, and the Faculty of Color Wellness Collective; and serves as a member of the Project Rebound Community Advisory Committee. In her research she utilizes critical race theory to examine how race, (im)migration, militarism, and carcerality shape the educational access, retention, and experiences of People of Color. She is co-editor of Education at War: The Fight for Students of Color in America's Public Schools, "White" Washing American Education: The New Culture Wars in Ethnic Studies, Navigating the Great Recession: Immigrant Families' Stories of Resilience, and the forthcoming First-Generation Faculty of Color Narratives: Reflections on Research, Teaching, and Service.
---
Tuesday, November 15
Future Educator Expo
Hosted by  SchoolsFirst Federal Credit Union Center for Careers in Teaching
11:30 - 1:30 PM
HSS Courtyard
Join the SchoolsFirst Federal Credit Union Center for Careers and Teaching at our Future Educator Expo!  Learn about various programs to support future educators, enjoy some snacks and win some prizes!  We hope you'll join us!
COE Virtual Research Symposium
Hosted by Educational Leadership, LIFT and C-REAL
Leading change through inquiry and improvement

Join us for our 12th annual Research Symposium. Program activities include two webinars representing P12 and Community College Educational Leadership, an Ed.D. alumni panel, pre-recorded presentations from Ed.D. students in Educational Leadership, and master's degree research poster presentations. 
Zoom Link: https://fullerton.zoom.us/j/86708089704
Meeting ID: 867 0808 9704
4:30 - 5:30 PM
Topic: Improvement Science and Dissertations in Practice
Presenters:  Dr. Maritza Lozano
5:40 - 6:40 PM 
Topic: Future of Community Colleges: Trends, Challenges, and Leadership
Presenters: Community College Educational Leaders Panel Discussion
6:50 - 7:30 PM 
Topic: Alumni Panel: Research for Improvement
Presenters: Student Panelists

---
Wednesday, November 16
Bilingual and Biliteracy  P12 Teacher Panel
Hosted by SchoolsFirst Federal Credit Union Center for Careers in Teaching
5:00 - 6:30 PM
Zoom link: https://fullerton.zoom.us/j/89354592829 
Meeting ID: 893 5459 2829
Proposition 58 and California 2030 have charged educators in K-12 schools to embrace, support, and promote, and most importantly implement plurilingualism for ALL students. Panelists will discuss their experiences as plurilingual, transcultural, and ideologically responsive educators. Dialogues will revolve around the idea of a just, equitable, and linguistically inclusive practices and how the Bilingual Authorization program prepared them to transform education.
---
Thursday, November 17
HOT TOPICS: Men in College
Hosted by C-REAL
12:00 - 1:00 PM
Meeting ID: 870 8240 2061
Join the C-REAL team  for a Hot Topics session revolving around the current trends of males pursing higher education and the various factors contributing to their low attainment rates nationwide. Our speakers Dr. Franklin Vice President for Student Affairs and Dr. Smith Sr. Associate Vice President of Student Life/Dean of Students from California State University, Dominguez Hills will dive into leading factors pertaining to barriers faced by male students and discuss solutions to mitigate the trend. 
Teacher Panels
Hosted by SchoolsFirst Federal Credit Union Center for Careers in Teaching
5:00 - 6:30 PM
Did you know there is a high need for teachers of color in P12 education? Please join us for a discussion with alumni of color who have navigated the pathway to teaching and want to share their journeys with you!
Asian American Pacific Islander Teachers in P12 Education Panel
Zoom link:  https://fullerton.zoom.us/j/84531501645


Meeting ID: 845 3150 1645
Black Teachers in P12 Education Panel
Zoom link:  https://fullerton.zoom.us/j/88383382135


Meeting ID: 883 8338 2135
Latinx Teachers in P12 Education Panel
Zoom link:  https://fullerton.zoom.us/j/84626895315


Meeting ID: 846 2689 5315