EDUCATION WEEK 2023
November 13th - 16th
Cal State Fullerton's College of Education (COE) presents Ed Week 2023. Ed Week is an opportunity for the campus community to learn about the impact of earning a credential or degree in education while providing a spotlight for students and alumni to shine.
We encourage everyone to participate and visit all of the incredible events we have in store!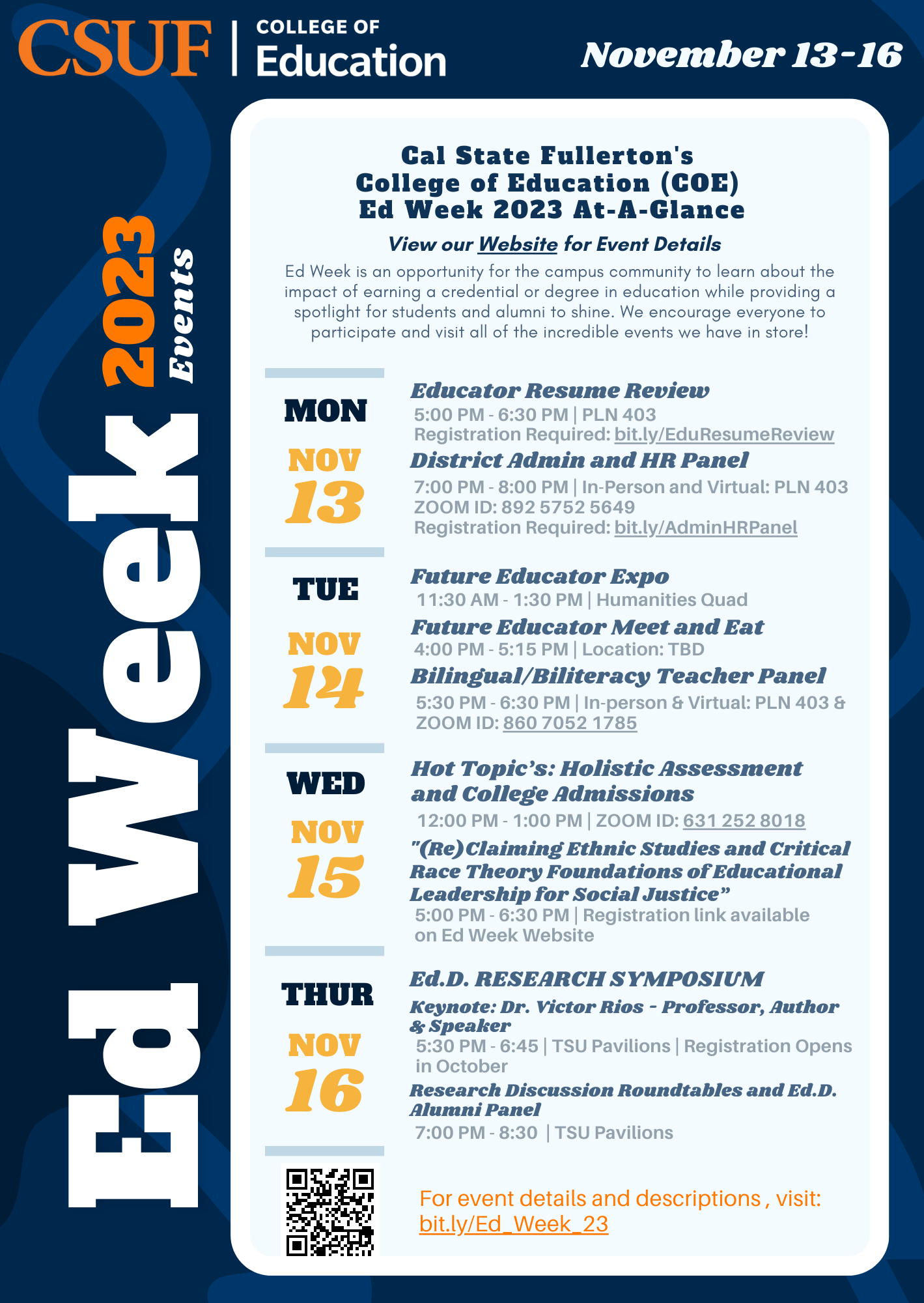 Click on a date below to view the events and details.
MONDAY, NOVEMBER 13TH
Educator Resume Review - Hosted by the Career Center
5:00 PM - 6:30 PM | PLN403 (Pollak Library North, 4th floor)
Preparing for the teacher or educational administration job hunt? Now is your opportunity to meet one-on-one with district personnel to review your resume.
District Administrator and Human Resources Panel - Hosted by the Career Center
7:00 PM - 8:00 PM | In-person and Virtual - PLN403 (Pollak Library North, 4th floor) or ZOOM Registration


Curious about the teacher job market? Looking for interview tips?  Do not miss the chance to hear from local district administrators, principals and Human Resources personnel.
TUESDAY, NOVEMBER 14TH
Future Educator Expo - Hosted by SchoolsFirst Federal Credit Union Center for Careers in Teaching

11:30 AM - 1:30 PM | Humanities Quad
Have you considered a Career in Education? Do not miss The Future Educator Expo! Join the College of Education students, faculty, advisers & staff to learn about our credential, masters & doctoral programs, as well as connect with our student orgs. & programs for future teachers! 
Future Educator Meet and Eat - Hosted Education Inter-Club Council (EICC )
4:00 PM - 5:15 PM | Location: TBD 
Join us for an intimate Q&A event in which future educators will have the opportunity to visit with current faculty and students from the College of Education's teaching credential and graduate programs.  
Bilingual Authorization Teacher Panel -  Hosted by SchoolsFirst Federal Credit Union Center for Careers in Teaching 
5:30 PM - 6:30 PM | In-Person and Virtual - PLN403 or ZOOM ID: 860 7052 1785


Proposition 58 and California 2030 have charged educators in K-12 schools to embrace, support, promote, and, most importantly, implement plurilingualism for ALL students. Panelists will discuss their experiences as plurilingual, transcultural, and ideologically responsive educators. Dialogues will revolve around the idea of just, equitable, and linguistically inclusive practices and how the Bilingual Authorization program prepared them to transform education.
WEDNESDAY, NOVEMBER 15TH
Hot Topic's: Holistic Assessment and College Admissions - Hosted by the Center for Research and Educational Access and Leadership (CREAL)
12:00 PM - 1:00 PM | ZOOM ID: 631 252 8018
Join C-REAL for a discussion on the impact of holistic assessment on college admissions. Learn about the holistic assessment approach, the impact of this strategy, and outcomes on equitable access to higher education.
ReClaiming Ethnic Studies and Critical Race Theory Foundations of Educational Leadership for Social Justice
5:00 PM - 6:30 PM | ZOOM ID: 870 4213 0367


The goal of social justice leadership is to address educational inequities; the current moment requires utilizing principles of both Ethnic Studies and Critical Race Theory, which incorporate the historicization of social issues and conditions through a race-centered and intersectional analytic, and toward social, political, and economic well-being of historically disenfranchised communities.
Dr. Rebeca Burciaga is the Executive Director of the Institute for Emancipatory Education at San José State University and a Professor of Educational Leadership & Chicana and Chicano Studies.

THURSDAY, NOVEMBER 16TH
Ed.D. Research Symposium 
"The future of equity research: Interdisciplinary dialogue and fostering collaborations that can lead to innovative research directions" 
Join us for our 13th annual Research Symposium. Program activities include keynote Victor Rios, research discussion roundtables, and an Ed.D. alumni panel.
Keynote: Dr. Victor Rios, Award-winning college professor, author and speaker -  Hosted by the College of Education
5:30 PM - 6:45 PM | CSUF Pavilions | Registration Opens in October
Dr. Rios' research examines how inequality plays a determining role in the educational and life outcomes of marginalized populations. He uses insight from his research to promote equitable policies and develop programs to improve the lives of marginalized youths. Dr. Rios works with educators and organizational leaders on equity, anti-racism, cultural responsiveness, resilience, and restorative justice.
**First 200 registrants will receive a signed copy of Dr. Rios' book**
Research Discussion Roundtables and Ed.D. Alumni Panel- Hosted by Educational Leadership and C-REAL
7:00 PM - 8:30 PM | CSUF Pavilions
Attendees will engage in critical conversations, exchange ideas, and receive feedback on their work and research. The COE Research Symposium provides dedicated spaces for attendees to network and connect, fostering potential collaborations, mentorship opportunities, and the exchange of ideas beyond the symposium.
2022 Future Educator Expo Gallery