Program at a Glance
Curriculum
The Master of Science in Instructional Design and Technology degree is a 30-unit program.  This is a part time program and students enroll in two (2) courses each semester. While earning an M.S. degree, students also earn two Instructional Design certificates. The MSIDT program is in a cohort model and includes: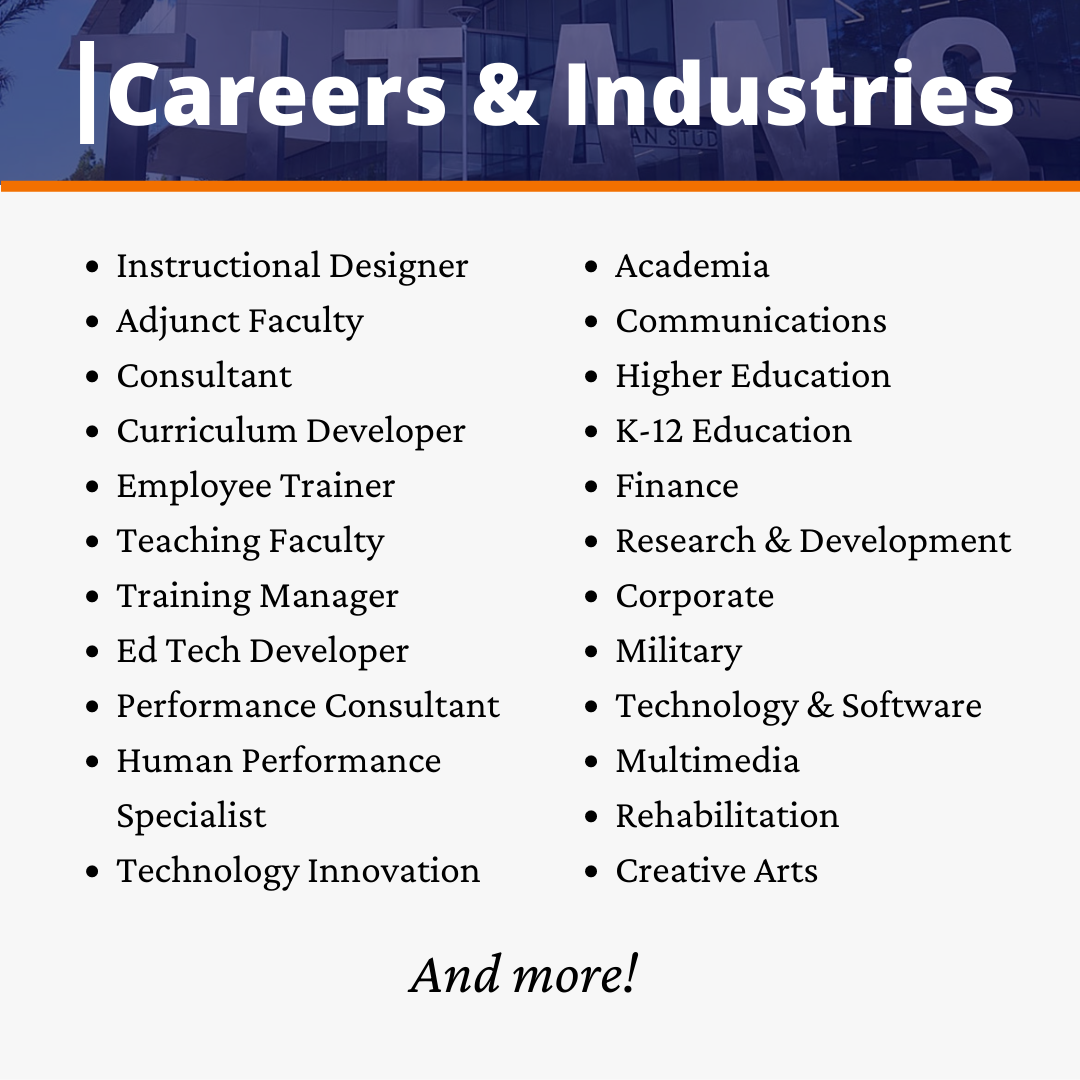 5 semesters of part time (6-units per semester)
10 graduate courses
100% online
2 Instructional Design Certificates
The MSIDT degree is designed to meet the needs of individuals seeking to advance their knowledge of instructional design research and improve their skill level. It is also devised to aid those employed by businesses and corporations, the military, technology industries, instructional design companies, software consultants and designers, educators (K-12 and higher education) and those working with curriculum development and training in e-learning.
 Our program is designed sequentially, and course content reinforces prior content knowledge taught in each course. Students learn to implement research theory into practical application. See our Master's Program page for more information.
Graduate Course Requirements
IDT 505 | Foundations of Instructional Design and Digital Authoring Tools
IDT 510 | Research Practices in Instructional Design and Technology
IDT 520 | Issues in ELearning and the Design Process
IDT 525 | Learning Theories for Postsecondary and Adult Instructional Settings
IDT 530 | Advanced Issues in Implementation, Management, and Program Evaluation
IDT 535 | Instructional Strategies and Universal Design Issues in Learning Environments
IDT 540 | Systematic Approaches to Digital Design and Development
IDT 545 | Trends, Emerging Technologies, and Issues in Instructional Design
IDT 550 | Research Practicum
IDT 597 | Digital Instructional Product Design and Development
Descriptions of each course can be found in the MSIDT University Catalog Page

.
Admissions Requirements
The MSIDT program requires:
A bachelor's degree from an accredited university
A minimum 2.5 GPA (university requirement)
A submitted application via Cal State Apply
A resume, and personal statement
Official transcripts from all attended universities/community colleges
The program does not require the GRE/GMAT. We also do not require Letters of Recommendation or references. Please visit our admissions page for more information. 
Instructional Design Certificates
We offer two instructional design certificates to support the foundation of instructional design and technology. The courses are the same courses that are offered in the MSIDT degree program. Many students begin their education by completing the certificate requirements, then transfer to the Master's degree.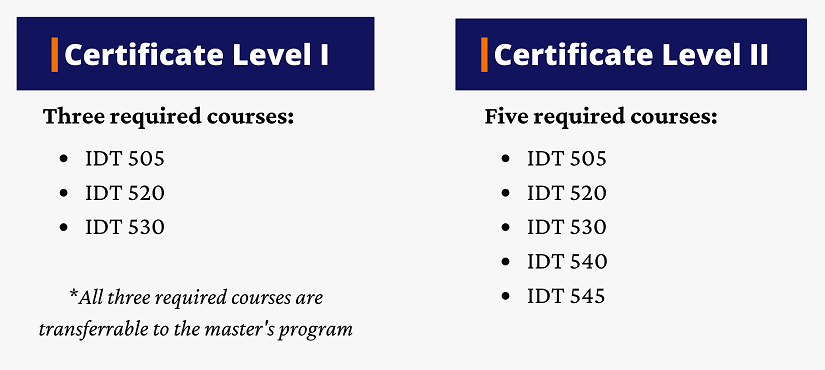 See our Certificate Program page for more information.
---
Academic Programs
We offer two fully online programs: a Master of Science and a Certificate. 
Master of Science
The Master of Science (M.S.) is a two-year program that combines theory and research with hands-on design and development using educational technology. The M.S. program culminates in a master's project, where students research, design, develop, and test an interactive multimedia instructional product. 
In conjuction with earning their master's degree, our students also earn two instructional design certificates. The skills learned in both our programs prepares graduates for entry into the instructional design career as well as makes them marketable to companies. Earning your certificates requires no extra work or fees!
Learn About the Master of Science
INSTRUCTIONAL DESIGN Certificate
The ID Certificate program offers a Level I (three courses) and a Level II ID Certificate (Level I certificate + two courses). Both certificate levels focus on design and development of online learning experiences, and the courses taken in this program are fully transferable to the Master of Science.
---
INFORMATIONAL VIDEOS AND TESTIMONIALS
Take a look at the informational videos created by our faculty that go over the MSIDT program. Or sneak a peek at our alumni testiomonials where they share their experiences in the program! We also have free, recorded webinars for you to peruse at your own time.
Take a Look!