Sandra V. Serrano Bio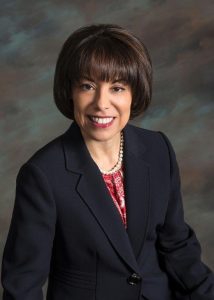 Sandra V. Serrano is Chancellor of Kern Community College District, a position she's held since July, 2004.  The Kern Community College District encompasses 25,000 square miles and is served by three colleges: Bakersfield College; Cerro Coso Community College; and, Porterville College.
Prior to being named Chancellor, Serrano served six years as President of Bakersfield College. She held a variety of positions at Bakersfield College, including Vice President, Student Services and Associate Dean of Students. Serrano also spent nine years at California State University, Bakersfield, in Student Services capacities and as an adjunct faculty member.
Serrano's longtime service to community colleges and post-secondary education was honored in 2012 when she was named winner of the Harry Buttimer Distinguished Administrator Award from the Association of California Community College Administrators.
As KCCD Chancellor, leadership is the hallmark of Serrano's statewide, regional, and community involvement. At the state level, Serrano currently serves as a member of the Finance & Operations Committee for the Western Association of Schools and Colleges (WASC). She is Chair of the Government Relations Committee for the Hispanic Association of Colleges and Universities (HACU) as well as Past-Chair of the Governing Board for HACU.  Locally, Serrano is a member of the Board of Directors for the Kern Economic Development Corporation. In central California, Serrano serves on the Central Valley Higher Education Consortium to facilitate college attendance among citizens of California's San Joaquin Valley. She is also a board member of California Council for the Humanities.
Previously, Serrano was president of the board for the Chief Executive Officers of California Community Colleges; Chair of the Board for the Community College League of California; and a member of the California Community Colleges Chancellor's Office Consultation Council.  As a community leader, her involvement has included seats on the Board of Directors of the Greater Bakersfield Chamber of Commerce; the Board of Trustees of Kern High School District; Board of Directors of the Hispanic Chamber Education Foundation; the Women's Advisory Council of the Girl Scouts Joshua Tree Council; President of the Kern County Hispanic Educators; Board of Directors of the Bakersfield Symphony; and Advisory Board of the Kern Literacy Council. At the state level, Serrano held a position on the Advisory Council to the California Community College Collaborative (C4), a policy and research center established jointly by the University of California Office of the President and the Chancellor's Office of the California Community Colleges.  She also serves as a director on two hospital boards – Dignity Health Mercy Bakersfield Hospitals and Bakersfield Memorial Hospital.
Ms. Serrano holds a bachelor's degree in political science from the University of California, Berkeley; a juris doctorate from Hastings College of the Law; was an Education Policy Fellow with The Institute for Educational Leadership; and was a California State University Administrative Fellow at California State University, Fullerton.